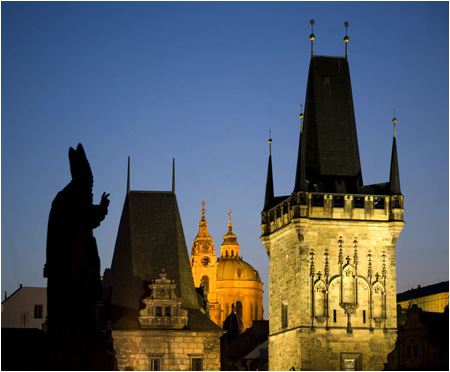 Poetic panoramas abound in the Czech Republic, along with a very captivating type of quirkiness. My six-day trip led me to Prague, Cesky Krumlov, and the small towns in-between. Nestled against the River Vltava, Prague is a vibrant city whose modernity lies comfortably in the spectacular remnants of Bohemian kings. Remarkably, Prague went largely undamaged by World War II, leaving its ancient cathedrals and medieval city center impressively intact. Known as the city of art and music, Prague is also an architectural wonderland, with a parade of shadowy bridges, soaring Gothic church spires and Baroque statues that rise out in-between dark, mysterious Art Nouveau buildings.
I stayed at the Three Ostriches hotel, which is situated in the heart of Prague and right at the west-end entrance to the Gothic-styled Charles Bridge. This pedestrianized, stone bridge was built by the Holy Roman Emperor Charles IV and is one of the most atmospheric spots in all of Prague. Its central location makes it a very convenient starting place to venture out either during the day or in the dreamy blue light of evening.
Driving from Prague to Cesky Krumlov, I explored many towns and small villages along the way. Almost without exception, every little place has its own town square and a tall steeple church, whose striking silhouette can be spotted from far away. I was there in May and thankfully so because the spring landscape was lush and tranquil. Meandering green valleys ease their way into wooded mountains while bright yellow flowers blanket entire hillsides. Even the long afternoon shadows play their artful part in this masterpiece; cascading across the tall grass, like strokes from a paintbrush dipped in rich pigment.
Its quiet, ancient beauty makes Cesky Krumlov truly an exquisite treasure of the country. The powerful flow of the River Vltava, which almost encircles it like a giant horseshoe, remains the lifeblood of this city and has for centuries. A massive green and pink castle from the thirteenth-century lies in the center, almost dictating the historic ambiance that floats in the air and creeps over every stone walkway. There is not a single modern building inside this little town that would dare to dim the unique ambience of a perfect medieval beauty. Even the damp stone houses that sit along the riverbank have a folksy-charm that is steeped in history. I highly recommend that you join two guided tours: Old Town Tour and Night Tour.