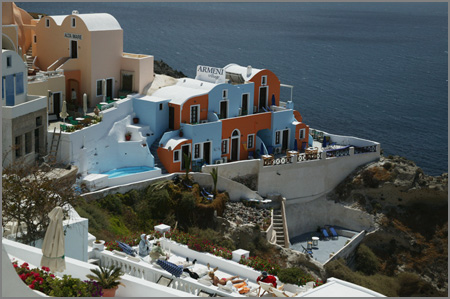 "I used to keep a journal of my travels… but I don't think it is necessary. In May of 2005, I island-hopped through four different islands in the Cyclades: Sifnos and Milos, Paros and Santorini… Once you visit a place and start to take pictures, you never forget its name, even in Greek! Everything about it— every detail— becomes a part of you.
Scattered throughout the hypnotic blue waters of the Aegean and the Ionian Seas, the Greek Islands are filled with a unique beauty and charm. The clean ocean air helps ordinary colors seem particularly clear and vibrant in the islands, especially in the Cyclades, which is made up of a group of islands situated in the Southern Aegean Sea of Southeast Greece. Among them are the islands of Milos, Paros, Sifnos, and Santorini. Each island has its own distinctive personality, but the architecture in these Cyclades carries a common theme— pristine, white-washed buildings with flat roofs dotted with shining sky-blue domed chapels among them.
The islands of Milos and Sifnos are much more quiet and peaceful than the other islands in the Cyclades. Tranquility abounds in the stone stairway leading up to the monastery that sits alone, atop a majestic cliff off the coast of Sifnos— just as a sense of calm flourishes in the sun-lit clusters of villages throughout the island of Milos.
Paros is a much more lively island and is home to a very charming and picturesque fishing village— Naoussa. Located at the Northern end of the island, Naoussa has plenty of outdoor restaurants, known as tavernas, surrounding and edging up to the fishing docks. Early in the morning I walked along the waterfront in Naoussa to watch fisherman unloading their catches and late in the evening I would sit at an open air tavernas and watch the fishing boats going out to the sea under the glowing red sunset. In Naoussa, it is quite normal to see fishermen drying their octopus on an overhead bar in front of the tavernas. You can even see them splashing the octopus on the boat deck— tenderizing their catch— before they cook.
Affectionately regarded as the most famous and beautiful of the Greek Islands, Santorini is perhaps the most interesting and colorful of them all. Renting a car is an absolute must to see all the beauty flourishing on this island. Parikia, the main town center, is where all cruise ships anchor out at sea and tender the tourists to the bottom of this spectacular, vertical cliff. Visitors can opt to take a tram or ride a donkey to the top. Parikia is a ritzy town full of expensive shops, boutiques and galleries, but I think that it is the northern village of Ioa that is the most attractive. Its houses are painted with bright, vivid colors to set each apart. Nearly all the houses and hotels in Ioa cling onto the edge of a looming cliff with magnificent views to the ocean and the world-famous Santorini sunset, which is nothing short of breathtaking."