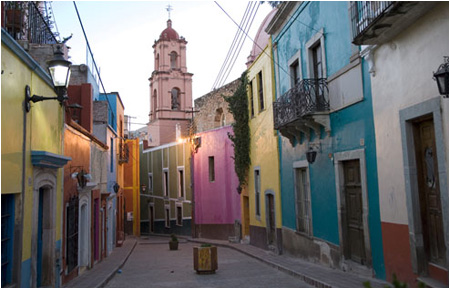 When we think of Mexico, we have visions of beautiful warm beaches, sailing boats, deep sea fishing, and carefree fun along the ocean front. But there is another side of Mexico that is completely different and far more fascinating than those resort-attractions.
In the central to north-west parts of Mexico, there is a trail that is covered in colonial towns. Built by conquistadors and missionaries in the 16th century, the distinctive style of these towns is the result of a collision between two very different cultures: the eclectic underpinnings of the Aztecs and the elegant, colonial influence of the Spaniards. This cultural blend shaped the colonial Mexico that you see today: a whimsical kaleidoscope of scenic gems.
Using Karen Brown's Mexico travel book as my guide, I spent two weeks exploring the old silver-mining towns of San Miguel de Allende, Quanajuato, Tlaquepapue, and Patzcuaro. As I traveled through these lovely colonial towns, I felt like I was walking back in time some three-hundred years ago. At the turn of every corner I saw old, but sturdy buildings saturated in rich, handsome colors of turquoise, pink, and yellow. As I took in the sweeping panoramic views, I was overwhelmed by the stunning beauty of towns such as San Miguel and Quanajuato. The feeling was surreal; almost as if I was gazing upon a magnificent abstract painting with a thousand-color palette.
This route is also a photographers' delight: The colorful buildings, the maze of narrow cobblestone alleys, the century-old Franciscan cathedrals, the charming old fountains and the street-side mariachi music that fills every hour of the day. Following the fishermen in the many lagoons of Pátzcuaro Lake is also a thrill for visitors and especially for photo enthusiasts. It is mesmerizing to watch them catch fish; swooping up and then down with their dramatic Butterfly-nets at the hazy hours of sunset.